Welcome to the Arapahoe District
---
Recharter Is Open!!
Recharter opened on 10/01/18. In the BSA, a charter authorizes an organization to operate BSA Scouting units. It certifies the agreement between a chartered organization – an organization that agrees to utilize Scouting as a part of its service to youth– and the Boy Scouts of America, setting expectations for the quality of program to be delivered.
Due Date for Arapahoe District: December 31st, 2018
You can find additional information on the 2019 Recharter Renewal Page.
---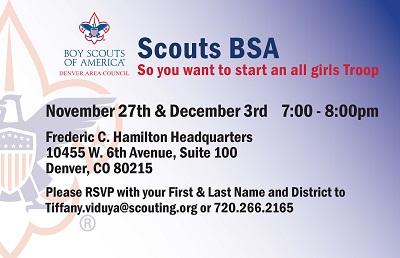 Scouts BSA Training!
If you are interested in starting an all girls troop, please consider attending one of our training sessions on November 27th and December 3rd from 7:00-8:00pm at the Frederic C. Hamilton Scout Headquarters located at 10455 W. 6th Ave, Lakewood, CO 80215.
Please RSVP with you first and last name and district to Tiffany Viduya, 720.266.2165.
---
Upcoming Activities
Visit the Arapahoe Activities Page for more details on upcoming activities, camping opportunities, service projects, and more!
Featured Activities:
2018 Cub Scout "Home on the Range" shooting sports event!
Has your Cub Scout always wanted to compete in a shooting sports competition? Then we have the event for you!
This is a district shooting sports competition in air rifle and archery. Prizes will be awarded for 1st, 2nd, and 3rd place. Every participant receives a pin for completing the event. In addition to shooting, all Cub Scouts have the opportunity for a session on the climbing wall! Don't miss out on this exciting new event!
Check-in starts at 8:30 am and the program itself runs from 9:00 am to noon. Cost per Cub Scout is $15. Register before December 16th for a spot.
---
Sign Up Night Marketing Materials
Sign Up For Scouting Materials Request Form
---
Learn how to set up your BeAScout pin!
Check out the links below:
---
Funding Your Program for the Year!
Popcorn season is wrapping up. Use the online sales to boost your next adventure. Average sale is over $90!
Contact Ellen Paul for personal assistance. 303.880.2252
---
Roundtable
Cub Scout Breakout will include a dedicated time to streamline your efforts to invite new families to your Pack. Find the Arapahoe District Roundtable Calendar 2018-2019 on the Arapahoe Roundtable Page.
Roundtable is a monthly meeting that occurs on the first Thursday of the month at the Church of Jesus Christ of Latter-day Saints Building at 9800 Foothills Canyon Blvd. in Highlands Ranch for Cub Scout, Boy Scout and Venturing Leadership. Roundtable start promptly at 7:00 p.m. and typically ends at 8:30 p.m.
---
Internet Advancement
Use the most up-to-date method for entering your unit's advancement, including ranks, merit badges and other awards. Internet Advancement allows you to enter and submit advancement and run reports online directly to and from the council. Doing so ensures greater accuracy and faster submissions.
Review the Internet Advancement presentation to learn how you can take advantage of this great resource.
---
District Leadership
District Chair
The District Chair is the top volunteer Scouting leader of the district, whose job is to motivate a talented team of people. They preside at district committee meetings and represent the district on the council executive board. They are responsible for the membership, program, and finance functions of the district.
District Commissioner
The District Commissioner is the quality control officer who recruits, trains, and leads a staff of Commissioners who coach adult leaders of every unit to succeed. The District Commissioner is responsible for the unit service function of the district. Unit Online Tools
Retention Mission Statement:
The retention mission of the commissioner corps is best achieved by providing an adequate number of trained unit commissioners who provide a link to district committee resources in support of a quality unit program.
District Professionals
The District Professional is your best Scouting friend and counselor--the full-time professional in the district. He or she is employed by the council and works under the direction of the council Scout Executive. The District Professionals welcomes all suggestions & knows that you will need close cooperation to get the job done through volunteers.
---
Find us on Facebook and Twitter
We are continuously improving our communication to the volunteers of the Arapahoe District and Facebook and Twitter are good ways to improve! Go to Arapahoe District Facebook page at www.facebook.com/araphoedistrict to like our page and visit our Twitter @ArapahoeDist to get the latest information from us!